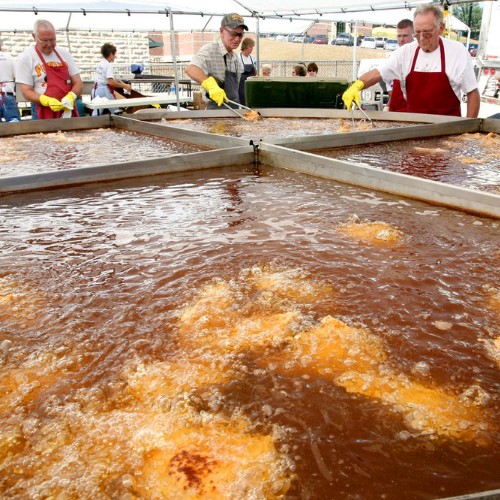 03 Jul

World's Largest Stainless Steel Skillet

Delicious fried chicken dinners are served from the benchmark feature of the festival — The World's Largest Stainless Steel Skillet. The skillet is operated by World Chicken Festival volunteers and has served more than 120,000 fried chicken dinners since its inauguration in 1992.

The world's largest known frying skillet was manufactured by London Bucket Co., Inc. in September 1991, and donated to the World Chicken Festival. The burners and firing system were manufactured by Bakery Machinery, Inc., operated by Rockwell Industries, "Rocky".

In 1999, a new skillet was constructed, manufactured by Logan Steel and Jeff Williams Welding.
Skillet Location and Times
The Skillet is located at 4th /Long Street behind the Laurel County Courthouse and McKee Lodge.
Thursday
Noon until 9:00 PM
Friday
11:00 AM until 9:00 PM
Saturday
11:00 AM until 9:00 PM
Sunday
Closed. No Sunday serving hours.
Dinners are served by a local non-profit as a fundraiser. Drinks are provided by local sports team as a fundraiser.
MENU

Drumstick Meal: $5.00 per meal
(One Fried Drumstick, Potato Salad, Baked Beans and a roll)
Chicken Breast Snack: $8.00 per snack
(1/4 fried chicken breast and a roll)
Chicken Breast Meal: $10.00 per meal
( 1/4 fried chicken breast, potato salad, baked beans and a roll )
Fun Facts About the Skillet
Size
10 feet, 6 inches in diameter; 8 inches deep; 8 foot handle; and weighs 700 pounds total.
Construction
11 gauge, hot rolled stainless steel; divided into four cooking sections; mounted on a steel frame.
Capacity
Requires 300 gallons of cooking oil to fill. Can cook 600 quarters of chicken at one time.
Fuel
About 60 gallons of Natural gas (more than an average family would use in a year) are required to cook 7000 pieces of chicken at temperatures between 325 and 350 degrees.