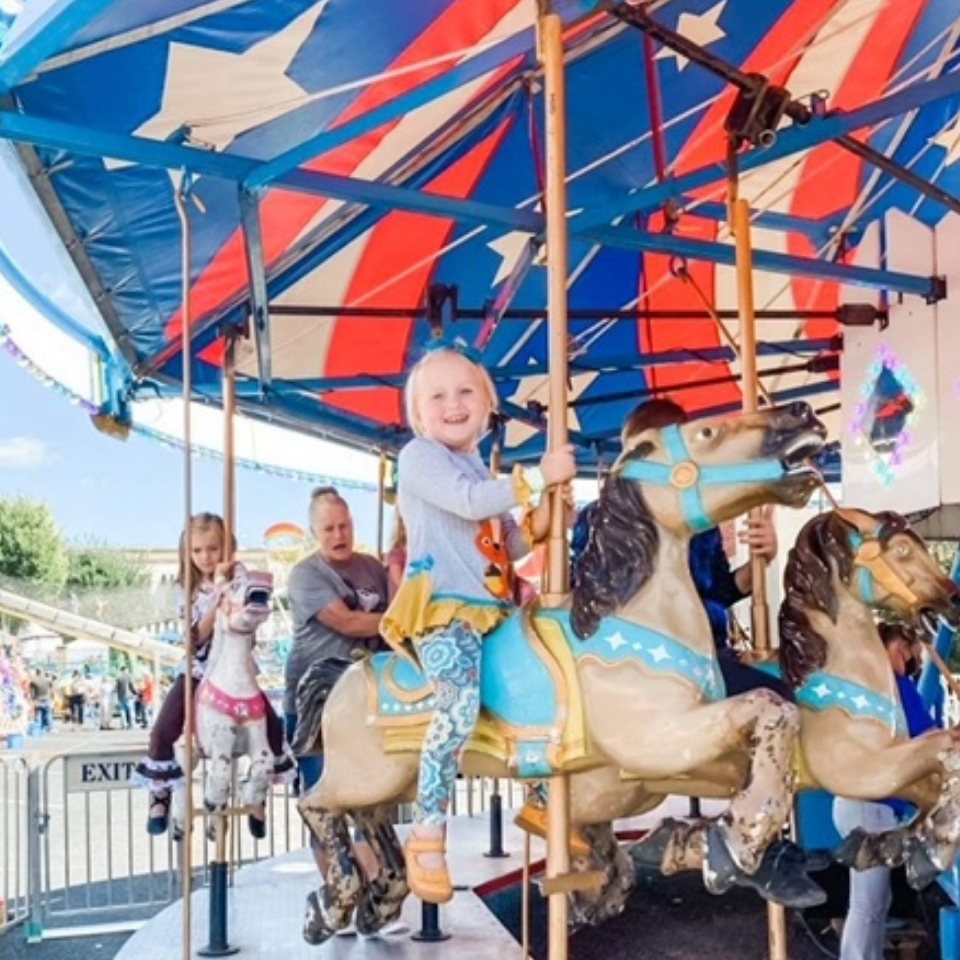 10 Apr

Carnival Rides

The World Chicken Festival offers family fun for everyone! Get your thrills and chills on the many "egg-citing" carnival rides and games featuring Caseys Rides. The midway features a wide variety of rides to accommodate most levels of thrills that festival goers seek. From a safe and secure Kiddie World to the high rolling rides for teens and adults, the midway has something for everyone. All rides require purchase of tickets from Casey's Rides.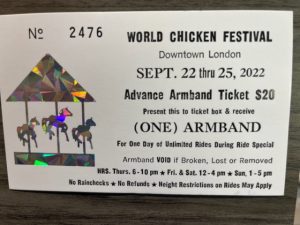 The World Chicken Festival's daily unlimited ride armband tickets for Caseys Rides are now on sale at local banks and the London and Laurel County Tourism Visitor's Center.
Advance Armband Unlimited Carnival Ride Tickets are now available at local banks for purchase of $20. Cash only. Pre Sales End September 20, 2022.
Restricted days and times are printed on the tickets. You must redeem this ticket to the Casey's Ride ticket booth during the World Chicken Festival to get armband.
Select ONE DAY per armband during the following times:
Thursday 6pm-10pm
Friday 12pm-4pm
Saturday 12pm-4pm
Sunday 1pm-5pm
Participating Banks
CITIZENS GUARANTY BANK | 1105 W 5th St
COMMUNITY TRUST BANK | 38 Shiloh Dr , 1706 Ky 192
COMMERCIAL BANK | 202 S Main St
CVNB | 100 S Main St
EAGLE FINANCIAL | 1744 Hwy 192 W
FNB OF MANCHESTER | 1211 West 5th St, 120 Town Sq
FIRST STATE BANK | 400 S Main St
FIRST TRUST BANK | 71 London Shopping Ctr
FORCHT BANK | 100 First Financial Plaza | 50 Old Whitley Rd
HOMETOWN BANK | 1506 W 5th St, 1705 North Main St
L&N CREDIT UNION | 101 Spring St, 120 Wendon Way
TRUIST | 840 Whitley St